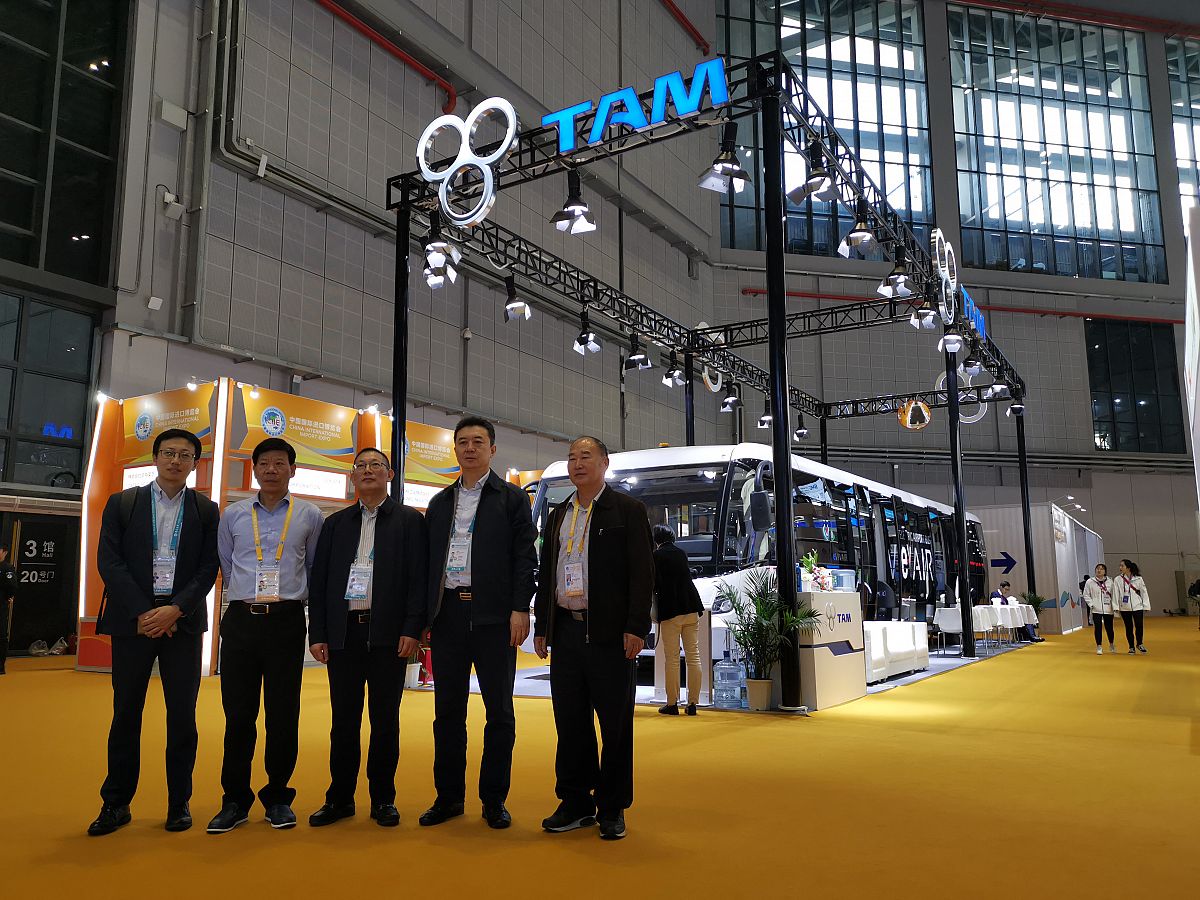 2nd CHINA INTERNATIONAL IMPORT EXPO (CIIE) – SHANGHAI 2019
China International Import Expo (CIIE) 2019 started on 5th of November at National Convention & Exhibition Center in Shanghai. CIIE is the first dedicated import exhibition in the world. It is a historic opportunity for companies from around the world who can introduce themselves to the Chinese market and explore opportunities for local cooperation. The total exhibition area of the CIIE exceeded 240.000 square meters and attracted about 150,00 professional purchasers from over 100 countries and regions.
TAM-EUROPE ltd. participated at the 2nd CHINA INTERNATIONAL IMPORT EXPO with our e-VIVAIR2 electric airport bus, which was highly praised by leaders at all levels. On the afternoon of the November 5th TAM-Europe exhibition space was visited by the Secretary of the Party Committee and Director of the State-owned Assets Supervision and Administration Commission, Mr. Hao Peng, deputy director of the State-owned Assets Supervision and Administration Commission, Mr. Ren Hongbin, the leader of SINOMACH: Party Secretary and Chairman Mr. Zhang Xiaolun, Party Committee Standing Committee and Deputy General Manager Mr. Ding Hongxiang, Chief Economist Mr. Iu Zuqing, Market Director Mr. Uo Yan and other leaders and members of the Party Committee. Mr.Liu Tiantao, president and party secretary of CHTC, Mr. Yan Weiquan and Mr. Li Xiaohong, vice presidents of CHTC and Mr. Chen Jun, vice president of TAM-EUROPE.
Mr. Liu Haitao introduced the e-VIVAIR2 to the visitors.  Zero exhaust emissions, low noise pollution, braking energy recovery, fast charging and solar roof system which can provide passenger space with the largest passenger capacity in the world are just some of the key advantages of our bus. All the directors agreed that it is vital to continuously strengthen scientific and technological innovation and enhance the core competitiveness of our products.
During the 5-day exhibition, a large number of professional visitors and people came to visit our exhibition space. The design, product quality and energy-saving concept of e-VIVAIR2 were widely praised. Airports and agents around the world have also made eager inquiries. Like China Aerospace Science & Industry Corp (Shenzhen), China Aerospace Science & Industry Corp (Shanghai), Shanxi Aviation Industry Group Co. Ltd, Hefei Xinqiao International Airport, Zhejiang Airport Group Co. Ltd.
Mr.Zheng Xiangping, general manager of Zhejiang Airport Group Co., Ltd. and Mr. Zhu Qian, deputy general manager were impressed by our e-VIVAIR2, saying, "I like this bus very much. I liked it the moment I saw it!".